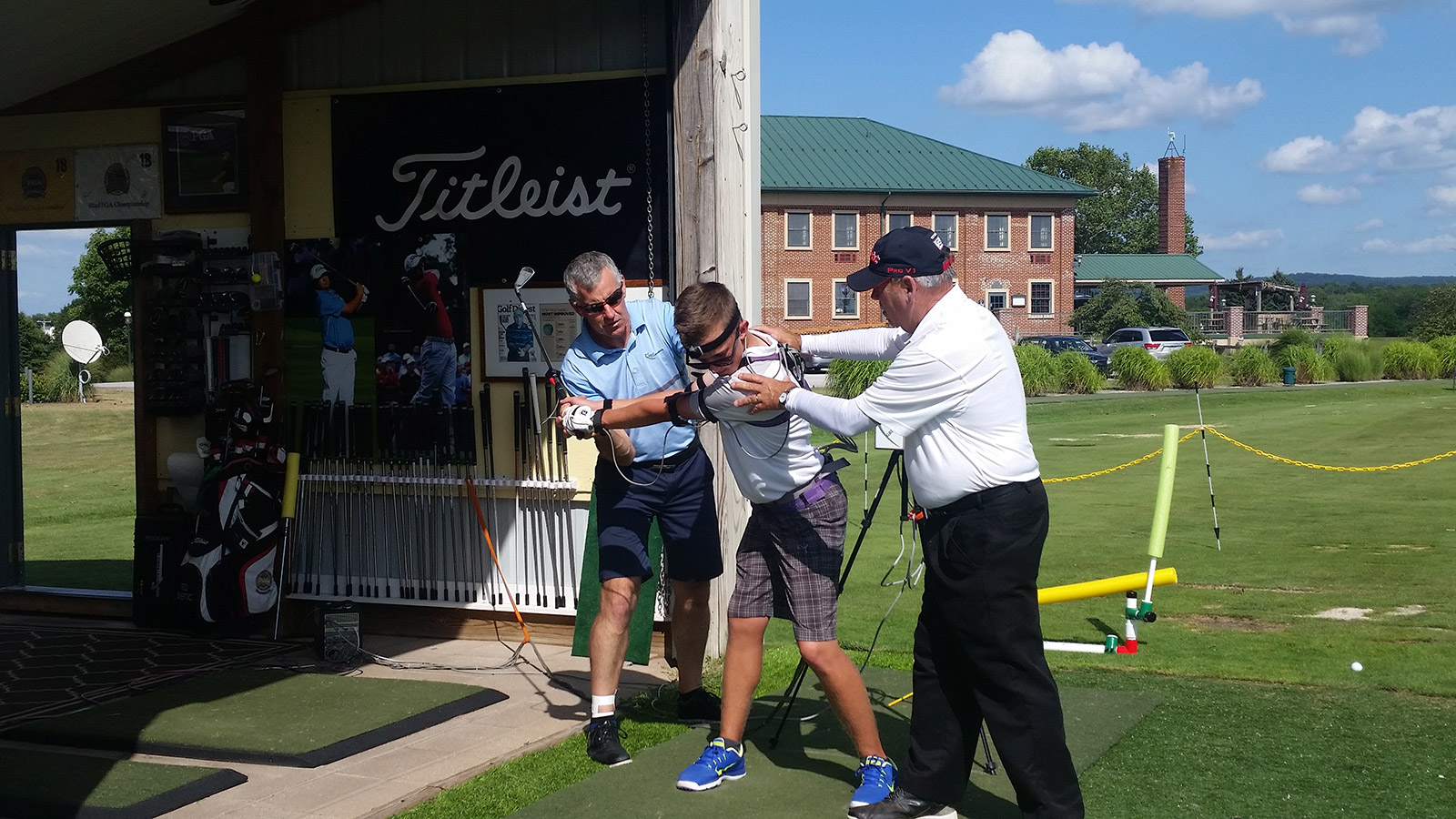 PROGRAMS CUSTOMIZED TO YOU
2-hour initial evaluation
(long game, pitching or putting)
$450
1-hour Follow-up Session
(biofeedback
training)
$225
Half Day
evaluation
(long game, pitching or putting)
$850
FULL DAY
evaluation
(biofeedback training
& play 9 holes)
$1500
Prices are current as of August 2018.  Prices are subject to change at any time.
Full evaluation (Day 1) + 9 holes of golf – 7 hours of evaluation/play
Biofeedback training, practice on the range and on the golf course – ½ day
Continued training on the range including final re-assessment – ½ day
Physical competency testing
Skills testing (short game, putting & long game)

$2700

1-Week Training/Coaching Program

Same program as above but spread over one week (customizable with respect to training days/times)

$2700

Month Long Coaching Program

Completely customizable depending on the client's needs
Full evaluation (arrival and departure) + 9 holes of golf on arrival
Biofeedback training, practice on the range and on the golf course
Continued training on the range including final re-assessment
Physical competency testing
Skills testing (short game, putting & long game)
Training programs (how to plan training sessions)

POA

Club Head Speed Improvement

Full evaluation of driving skill, speed and technique
Physical competency testing as well as power tests
Design of training program to enhance club head speed
Technique development
Fitness training including strength, stability, speed, power and flexibility)
Re-evaluation after 8-week training period

$1500
PRACTICAL WORK WITH 3D IN THE FIELD
Designed for Golf Instructors!
Bring along one, two or more of your students for evaluation and training:
Pitching skill evaluation and training
Putting evaluation and biofeedback training
Long game testing and technique enhancement
* If players and the coach come to Bishops Gate, no out of pocket expenses are charged.
$1000 (max. 3 students) + travel and out of pocket expenses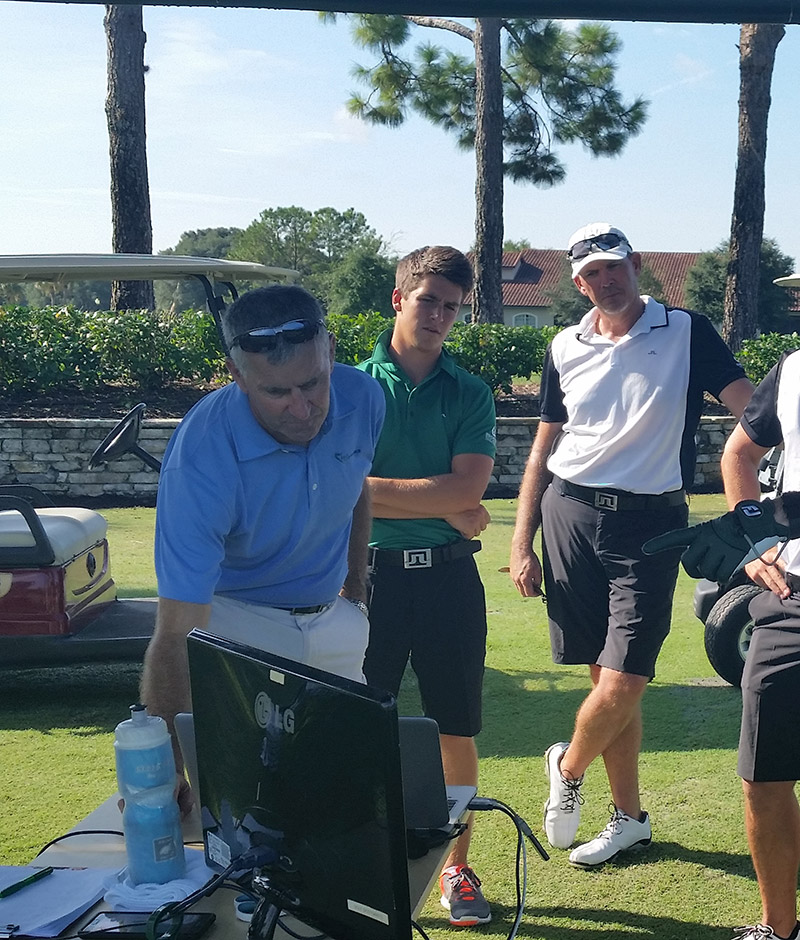 WORKSHOPS & SEMINARS
Dr. Neal can be invited to speak on a host of topics including:
Biomechanics for Golf

3D movement analysis
Ground reaction forces
Art & Science of pitching
Putting evaluation and skill development
Transition, lag and impact
Use of technology in coaching
Forces & torques applied to the golf club
Release patterns
Long game versus short game technique and skills
Center of mass, COP, ground reaction force, 3D motion
Custom programs on demand

Skill Acquisition and Motor Learning
Attentional Focus
How to Develop Speed
Long Term Player Development
Designing Practice Sessions for Optimal Improvement of skill while maximizing fun and engagement
Teaching Children versus Adults
Coaching Certification
The Golf Coaching Praxis Certification Program is a dynamic course that aims to develop coaches' understandings of the major theories and player development concepts applied to all golfers. It is an exciting collaboration between the University of Central Lancashire (UK), Golf Biodynamics, and BMR Golf Management, to provide a high-quality learning experience for existing and aspiring golf coaches. The Golf Coaching Praxis Certificate provides an opportunity for those working in golf to complete a program of study focused on developing the best environment to develop golfers.
The Certificate is equally valuable for coaches working with elite and developing golfers or club players since it focuses on all aspects of skill development and game improvement. It is an innovative and original initiative, capable of providing a high level, vocationally focused award that will enhance an individual's coaching, management and leadership skills.
The program is designed to include three levels of information about golf coaching. This first level (of three) is an introduction to key elements of coaching. It has been organized into three sections:
Core knowledge (mechanics, LTAD, technology, etc.)
Developing golfers (coaching styles and processes; how players learn, etc.)
Management (golfers and yourself including career pathways and business principles)
PHYSICAL SCREENING (one-on-one)
Learn your strengths and weaknesses as a golf athlete
An assessment of posture, gait, balance, stability, flexibility and
strength relative to golf swing technique
Injury prevention strategies
Written Report included plus individualized stretching program
Please note: This is a more valuable session when combined with a 3D GBD swing analysis so that the physical issues can be linked to swing mechanics.
Physical Screening (one-on-one) $175
Follow-up Sessions $125/hr
SPORTS NUTRITION ADVICE (one-on-one)
A session customized for you!
Learn more about the basics of good nutrition
Nutrition timing for optimal sports performance
Develop a customized hydration strategy
Ergogenic aids and their value (e.g. protein powder, pre-workout
supplements, creatine, caffeine etc.)
Please note: Karen is not a registered Dietician and cannot provide meal plans; also, for medical conditions requiring specific nutritional advice it is strongly recommended that you consult a registered Dietician.
Sports Nutrition Advice (one-on-one) $150
REVIEW OF FOOT AND LOWER LIMB BIOMECHANICS
Review of gait and foot mechanics and their relationship to
overuse injuries of the lower limbs
Footwear assessment and recommendations
Generic orthotic fittings only (Aline, Formthotics)
Referral available for custom devices
Review of Foot and Lower Limb Biomechanics $125
"

Can I say that I felt as if I had died and gone heaven? Maybe a slight exaggeration but still the excitement at experiencing very targeted and impacting feedback in one hour after hours of misguided lessons is more than I ever expected. You have given me impetus to forge ahead.

"

HELEN LARSON

"

It's incredible how Golf Biodynamics changed people minds about golf in Portugal, all the Golf Biodynamics evidence based approaches have been very useful to all our athletes on the national squads to all pro's and amateur clients in Portugal.

"

RUI RAPOSO

"

I am pitching and chipping really well. I regressed terribly (felt like quitting the game) before your clinic but now I am el fuego!

"

FRANK WEISE

"

I finally really experienced and understood the proper body positioning, movement and sequencing of the swing. In addition to designing practice in order to improve the quality of my swing, it has helped me to make proper adjustments during my rounds. 

"

DAVE MARSHALL

"

 The knowledge that you have passed on to me was extremely generous, and will no doubt make me a better instructor. The BioDynamics is a perfect addition to providing a holistic approach to teaching, and you are unquestionably the leader in this field.

"

MIKE BURY

"

The Golf BioDynamics system is groundbreaking and brings the fine tuning of golf to an entirely new level. What Dr. Neal and Karen bring to our golf school is unparalleled in quality of information and depth of detail.

"

TRILLIUM SELLERS